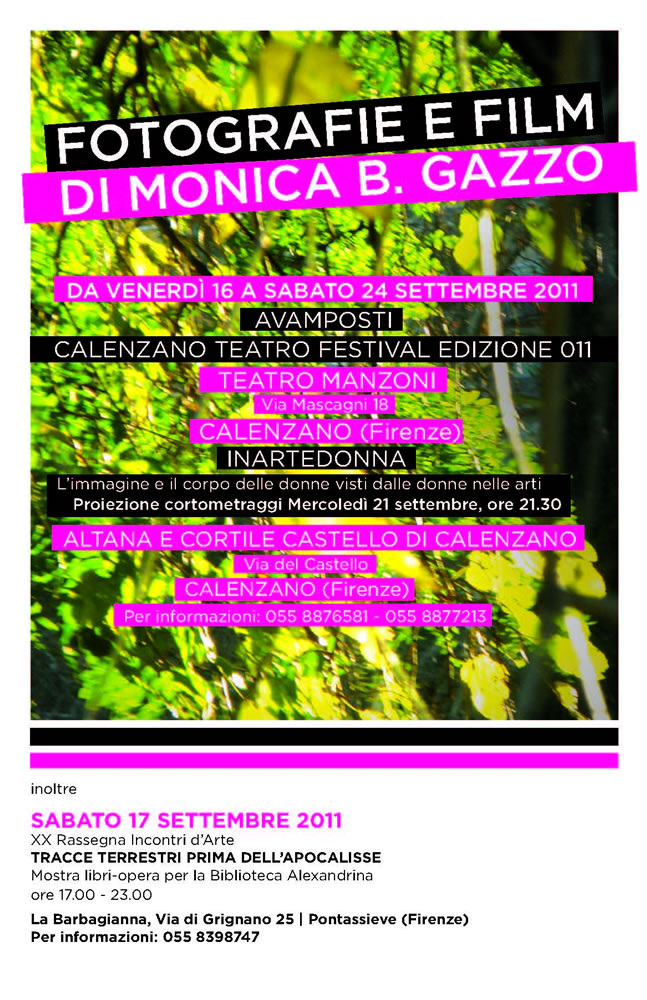 Cari Amici,
sono lieta di informarvi che dal 16 al 24 settembre, 2011, alcuni miei lavori fotografici saranno esposti presso il Teatro Manzoni di Calenzano, in occasione della rassegna Avamposti. Inoltre, tre miei cortometraggi, di cui uno inedito, saranno proiettati nella serata Inartedonna, mercoledì 21 settembre, ore 21.30, presso l'Altana del Castello di Calenzano. Sarò presente per intervenire. Per ulteriori informazioni, telefonare al Teatro Manzoni 055-8876581 - 055-8877213, scrivere a
teatro.donne@libero.it
oppure visitare il sito
www.teatrodelledonne.com
. Il costo del biglietto è di 12 euro intero e 10 e 5 euro ridotto.
Monica Gazzo
Brief Bio (for more detailed information, please refer to the Résumé page):
Monica B. Gazzo (1952) si è diplomata presso il San Francisco Art Institute, Stati Uniti, con un master in cinema d'arte (MFA). E' nata in Argentina da genitori fiorentini. Ha presentato iI suo lavoro in Europa e negli Usa sino dal 1976. In quegli anni ha dimostrato un'instancabile capacità come operatrice culturale, organizzatrice teatrale e attivista femminista. E' una pioniera della performance art e del cinema e video d'autore. In particolare i suoi film sono stati presentati al Directors Guild of America, Hollywood, Los Angeles Filmforum, Pacific Film Archive, Berkeley, Los Angeles Latino International Film Festival (Egyptian Theatre, Hollywood), Melnitz Theatre at University of California, Los Angeles, NYU, New York City, Cleveland International Film Festival, Cleveland, Ohio, MadCat Women's International Film Festival, Angels Gate Cultural Center, Anais Nin Video & Film Diary Festival, Big Sur, California, Society for Cinema Studies Conference, New Orleans, LA, Film Arts Festival, Roxie Cinema, San Francisco; UC Theater, Berkeley, Beaubourg Pompidou Center, Paris, London Filmmaker's Coop e altri. Ha ricevuto premi e finanziamenti da: Assessorato alla Cultura, Comune di Firenze, City of Los Angeles, Cultural Affairs and Youth Services Department, Long Beach Museum of Art / Video Annex, Ahmanson Foundation, California Arts Council, California Community Foundation, Italian Cultural Institute e altri. Ha vissuto e lavorato a Milano, Firenze, Roma, Los Angeles e brevemente a Parigi, Londra e Buenos Aires. Ha viaggiato in Messico, Brasile, Venezuela, Spagna, Francia, Germania, Svizzera, Grecia, Belgio, Olanda e Inghilterra. E' autrice di numerosi articoli e traduzioni pubblicati internazionalmente.